Opticz UV Blacklight Flashlight 51 LED 395nm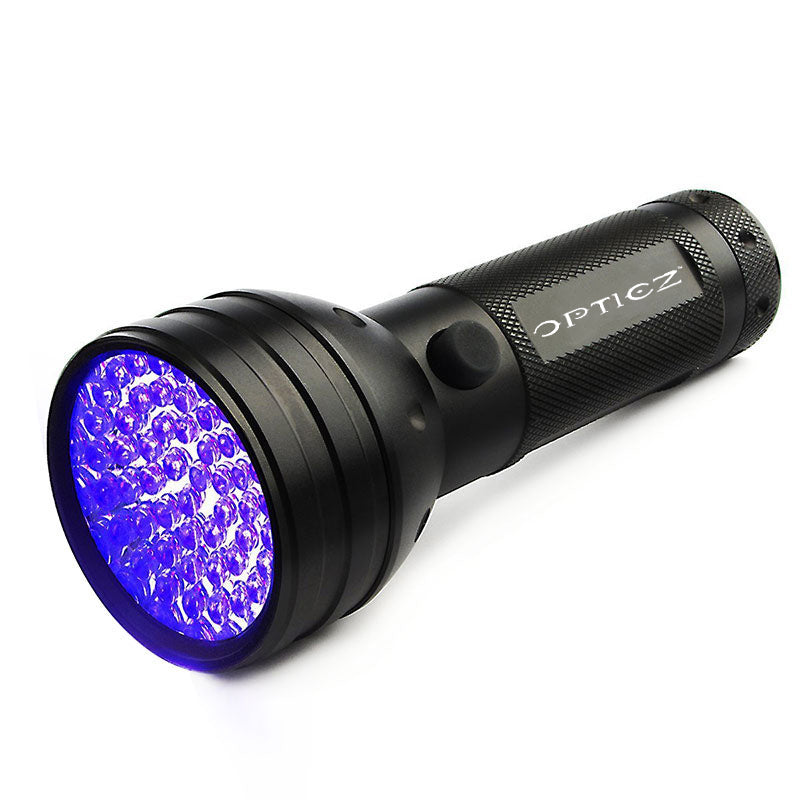 Large and powerful, this UV flashlight by Opticz provides exceptionally bright blacklight with it's large array of 51 LEDs. Shining bright with a 395nm output, this ultraviolet flashlight leaves nothing to question for tasks such as locating hard to see pet stains otherwise invisible to the unaided eye, counterfeit currency detection, blacklight responsive mineral identification, scorpion hunting, ID card and passport spot checks, hotel room cleanliness check, glow parties, escape rooms, artistic applications like blacklight painting and crafts, invisible UV inks for use with admissions, and so much more!
All Opticz flashlights are built with top quality standards resulting in a product that will last far longer than their bargain counterparts. Precision manufactured LEDs provide an average service life of 12 years! A weather and shock resistant aluminum alloy exterior build endures the rigors of everyday use along with the occasional rough treatment or accidental drop. An easy to use spring loaded silicone push button on the body of the handle allows one handed operation making it ergonomic and user friendly. When you need more than a pocket flashlight, our 51 LED blacklight flashlight gets the job done!
Key features
Size - 5.6" long x 2.0" wide (lens assembly) x 1.4" wide shaft/handle
Lighting distance - 25-30 Meters (85-100ft)
Lighting time - 6 to 8 hours
Power - 3x AAA batteries
Water resistance rating - IPX4
UV Spectrum - 395nm
Your Personal Information is Never Shared
FREE Delivery on orders $99+ (Continental USA Only)
Contact Us for Quick Friendly Support