PaintGlow Pro UV Blacklight Reactive Face and Body Paint
from

$6.95
Create amazing blacklight effects using our PaintGlow face and body paints! These tubes come with a handy built-in brush (13ml size) or sponge (50ml size) making application a breeze. Brightly colored in normal lighting, they fluoresce incredibly bright under UV blacklight. Perfect for clubs, glow parties, festivals, birthdays, UV sports, stage performances, or anywhere with UV black lighting. Available in 2 sizes. 13ml (.44oz). Enough for 1-2 faces or go large with the 50ml (1.7oz). Enough for 7-8 faces. If you're only doing designs or scattered body art, both sizes will go a long way vs full face coverage. Combine with our other UV PaintGlow products to create a stunning blacklight look. Buy with confidence! No harsh perfumes or chemicals. Washes off with soap and water. FDA approved and never tested on animals.
PaintGlow UV Blacklight Reactive Flavored Lip Gloss
$5.95
With PaintGlow UV Neon Lip Gloss you can cure any blues you have with an assortment of killer fruity flavors! Coming in a 15ml tubes, these lip glosses are certain to add a dash of color and flavor to any situation that might require it. We have a great assortment of UV responsive colors/flavors including blueberry blitz, apple fizz, banana split, tangerine dream, bubble gum burst, raspberry ripple, black currant bomb, and strawberry crush. They will also help make you feel fresh and ready for the day ahead while allowing your lips to glow a glorious shade of various neon colors. How great is that? Pick up PaintGlow UV Neon Lip Gloss today, but just make sure you buy enough to satisfy your fruity addiction!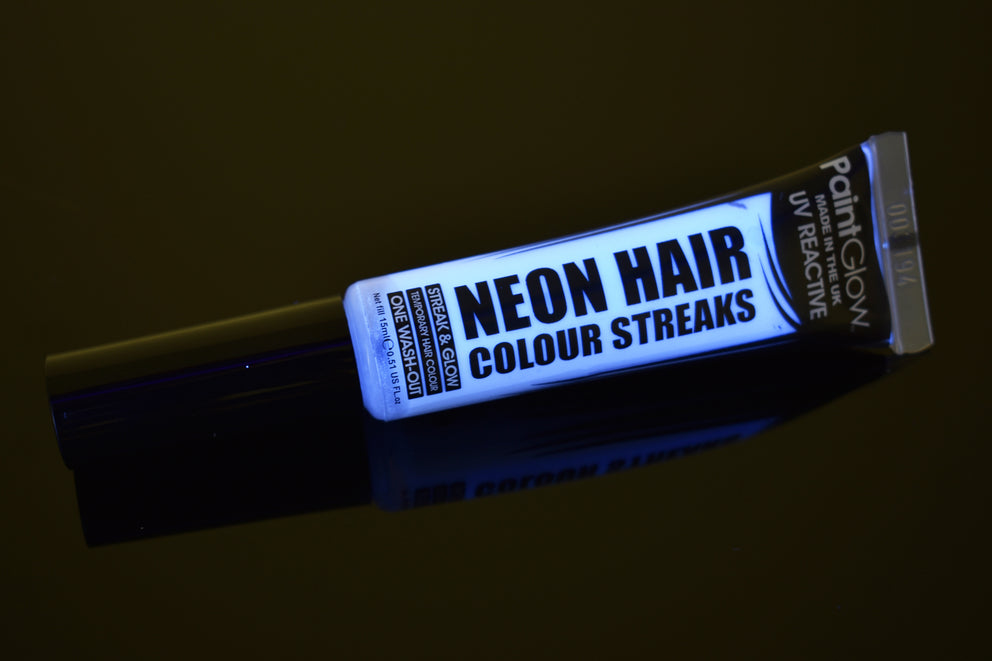 PaintGlow UV Blacklight Reactive Color Streaks Hair Mascara
$6.95
Brighten up your look with Paint Glow UV Hair Streak. This professional quality UV reactive Hair Color Streaks easily applies a bright neon color to all hair types and glows brilliantly under UV light. Vibrant and versatile, this hair mascara style product is ideal for Halloween, children's parties, raves, Festivals and more. Available in 8 amazing UV Colors: Yellow, Green, Blue, Pink, Orange, Red Purple & White. Paint Glow UV Hair Color Streaks add bold neon streaks to any hairstyle that will certainly stand out from the crowd. The classic spiral wand is easy to control and ensures an even, strong color. Give yourself a cool UV streak, create an eye-popping hair do or add the finishing touch to your dream look. Perfect for kids and adults alike, this Hair Mascara washes out easily with standard shampoo. Designed to give an instant temporary Hair Color streak using our mascara applicator to streak or highlight the hair with layers of colored lines. Simply pull out the hair mascara wand and apply product in a stroke motion. For best results, build up the color with layers (dark hair may require more layers than lighter hair colors). A patch test is recommended before full use, particularly for bleached hair which is more prone to staining, and dry/damaged or brittle hair which is more prone to breaking.
Your Personal Information is Never Shared
FREE Delivery on orders $99+ (Continental USA Only)
Contact Us for Quick Friendly Support