DirectGlow Blacklight Luminous Glow Invisible Blue UV Security Ink Basic kit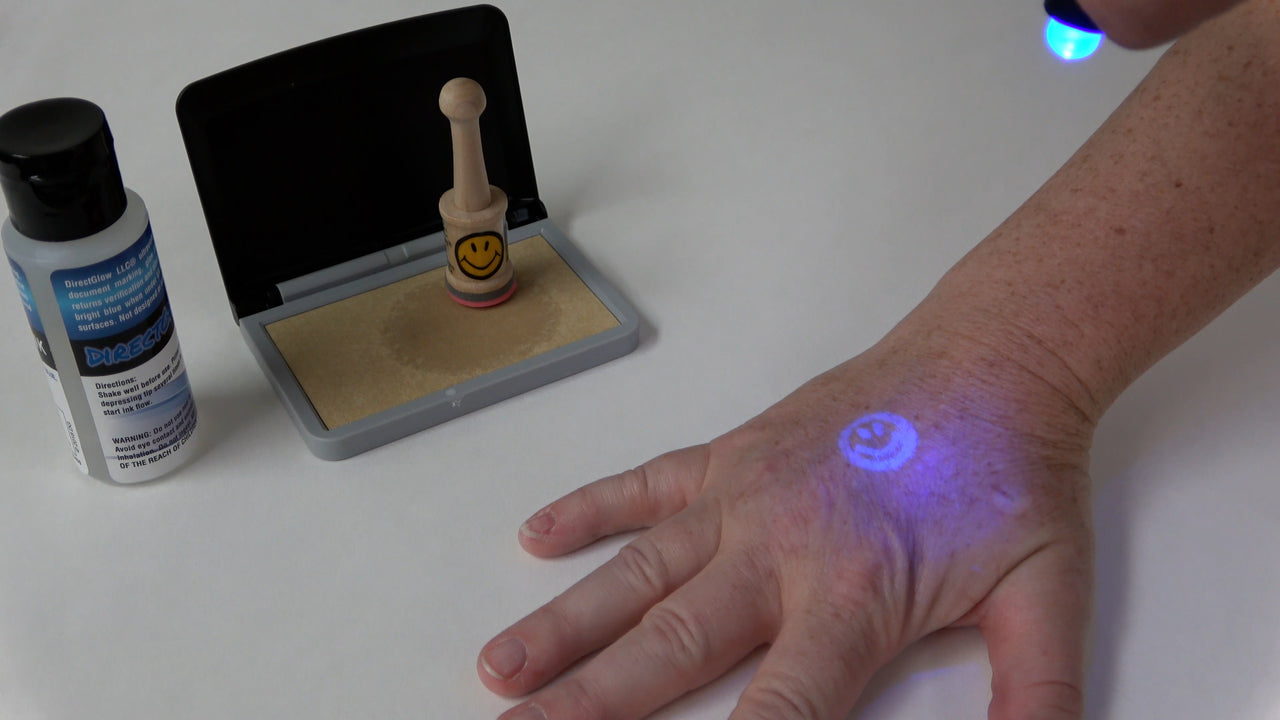 This convenient invisible blacklight ultraviolet ink marking kit by DirectGlow has all of the essentials you need to get started with blacklight security and secret messages! This kit includes one 2 ounce bottle of our special blend invisible UV ink, one dry felt stamp pad, one smiley rubber stamp and a keychain blacklight with XL bulb for larger viewing area.
Our general-purpose UV responsive ink goes on completely transparent and glows bright neon blue in blacklight. Alcohol based, low viscous and designed to dry fast. This means it won't gum up and stamp pads stays cleaner longer. Very tough to remove ensuring your secret message or mark can be identified anytime with the included blacklight. Proudly made right here in the USA, our invisible blacklight glow ink is completely skin safe when used as directed. Works best on porous textured surfaces. Highest luminosity in dark or low light when viewed with included blacklight. NOT for printers or tattoos.
This kit is perfect for returns verification, general admissions, document marking, passing discreet messages, counterfeit detection or any other practical application where invisible marking is useful. This all in one invisible ink kit is also ideal for recreational use like escape rooms, glow parties, invisible UV body art, scrap booking, secret messages, birthday parties or transforming the look of an entire room when the blacklight comes on! With DirectGlow all of your secret blacklight identification needs get delivered in one convenient affordable package!
Your Personal Information is Never Shared
FREE Delivery on orders $99+ (Continental USA Only)
Contact Us for Quick Friendly Support