Tulip Luminous Glow in the Dark Fabric Paint- 6 Pack Set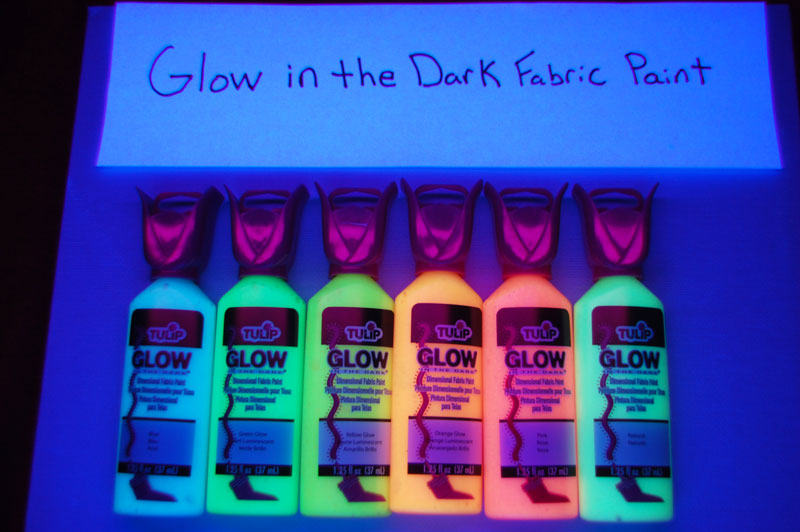 Whether it's a personal customization to a garment, shoes, or fun art work, our glow in the dark fabric paints will light up your next special project. These unique textile paints are infused with phosphorescent pigments which absorb normal light then discharge it as a bright glow once in the dark! Glow time averages around 20-30 minutes. They will quickly recharge with bright light exposure. The stronger and brighter the light source they charge with, the better and longer the glow.

This convenient retail packaged set includes 6 bottles, 1.25 ounces each in the following colors. Blue, Green, Yellow, Orange, Pink, and Natural (also called invisible green).
These paints are also considered a 3-in-1 as they will also glow at full brightness nonstop when placed under UV blacklight. Making them ideal for glow parties and blacklight themed events.
Application is a breeze with the soft plastic squeeze bottle paired with the precision tip applicator. This luminous paint can also be brushed or sponged on for different unique effects. The water based non toxic formulation makes this brilliant glow paint safe for all ages 3 years and up. Adheres to virtually any fabric including denim, canvas and also makes a great medium for arts and crafts!
Instructions:
Pre-wash before use. Do not use fabric softener.
Shake bottle well right before use
Insert firm cardboard between layers of fabric
After application allow to air dry for 4 hours minimum

Wait 72 hours before washing. Wash in warm water, gentle cycle with mild soap; line dry. Clean up with soap and water. Do not dry clean.

Enjoy your new glow creation!
Your Personal Information is Never Shared
FREE Delivery on orders $99+ (Continental USA Only)
Contact Us for Quick Friendly Support